You are here:
Home
/
The Albany G.A.R.
The Albany G.A.R.
Timetable Albany GAR Room
1888-Room 246 Capitol Building
1899-Room 269 Capitol Building
1914-Third Floor Capitol Building
1914-Albany County Courthouse(ground floor-rear)
1946-Disbandment
2010-November 18, 2010 (Reunification)
There were 3 GAR Posts who had Headquarters at the Albany County Courthouse. They were:
The George S. Dawson Post No. 63
The Lewis O. Morris Post No. 121
The William A. Jackson Post No. 644
---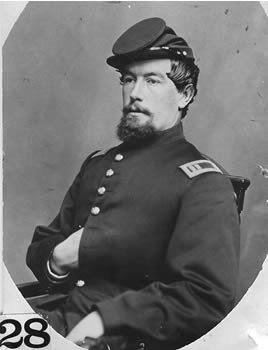 George S. Dawson Post. No. 63
Organized November 25th, 1875, with about 40 members and was named after Major George S. Dawson born in Rochester November 7th, 1838. A few months proceeding the fall of Fort Sumter he was a member of Company B of the 10th Battalion. On November 6th, 1861 he became 1st Lieutenant of Company F, 2nd Regiment N.Y.S. Volunteer Artillery, February 1862, he was promoted to Captain. He died in Albany, December 6th, 1865;
from the effects of a wound received before Petersburg June 16th, 1865.
The 1st Commander of Post 63 was Charles D. Rathbone.
---
The Lewis O. Morris Post No. 121
Organized August 21st, 1870, and was the 2nd Post formed in the City of Albany. It was named after Lewis Owen Morris who was born at Albany, August 14th, 1824. Colonel of the 113th NYVI an Albany County Regiment
which subsequently changed to the 7th NYSV Artillery.
He was killed at the Battle of Cold Harbor, June 3rd, 1864. Post 121 was a strong and efficient organization at one time having 319 members and a Woman's Relief Corps No.45 of 50 lady workers who assisted the Post in all charitable events.
The 1st Commander of the Post was George H. Treadwell.
Commander Treadwell was the Longest Serving Commander of the Post and helped greatly those comrades in need.
---
The William A. Jackson Post No. 644
History to be Published…